"Making aspirations and Experiences attainable and affordable by changing the way India saves" – Nihar Bobba, Co-founder of Wizely
Thursday, September 27th, 2018 at 12:36 pm
---
StartupEd had an exclusive interview with Nihar Bobba, Co-founder of Wizely which is a Fintech startup that aims to combine the best technologies and innovative design thinking to create a banking experience that is engaging, elegant, fun and rewarding.
Read his story below.
What were the early stages of your career, why did you not want to do a mainstream job? Was the plunge difficult?
Wizely is my first full-time job, apart from several summer internships in Chicago, New York, and San Francisco. The Wizely journey began 2 months prior to finishing my undergraduate degree at Northwestern University (USA) in June 2016 and the core idea behind Wizely has been my passion and I really did not want to pursue any other alternatives that I had access to when I graduated from college.
Having seen my father build, grow and sell a successful business (Payback India – formerly imint) you can say that the idea of entrepreneurship was never an unusual one. So for me, it was always a matter of when and not if. Additionally, I was fortunate enough to have a diverse set of professional experiences by way of internships and full-time job offers across investment banking, travel-tech & management consulting in the US. These early experiences made it apparent to me that anything apart from diving into the startup journey would be a boring one. The intrigue, excitement, and drive to follow an idea from concept to creation was something that I did not want to wait for.
The approach that the Wizely team has been taking is a methodical one. We decided to explore the nascent idea of Wizely before jumping into it and spent about a year with the concept of doing research, understanding the regulatory landscape & possible business models. It wasn't before a year, 1000+ customer interviews, a substantial business plan and validation thereof that we decided to take the plunge. As unpredictable as the early stage business can be – I would say we took a calculated risk, at least to the best of our abilities, making the plunge all the more enticing for us & for me personally.
How did you arrive at the idea of your venture? What was your 'Eureka' moment? Explain the problem statement/ the gap you observed in the market here, and your solution for it.
The idea and shape of Wizely has evolved tremendously since we first began toying with the concept of setting aside small amounts of money for an aspirational purchase and for long-term savings. That being said the initial thinking was a result of a couple of factors that we observed
between 2012-2016. We saw an immense emergence of Fintech not only as a concept but also as a new sector that was beginning to disrupt archaic banking technologies, existing distribution channels, and static business models.
This is what really piqued my interest initially because we were seeing this disruption not only coming to India but also in many ways being embraced by the Indian banks, the RBI and of course the regulatory ecosystem. The second factor was that of course, India is growing and with that, India is tending towards a consumption-driven economy.
We saw three trends here –
The first trend was that Indians are becoming increasingly aspirational and experiential oriented in their purchase choices. These aspirational goals are becoming short-term in nature for the Indian millennial generation.
The second trend we saw was that while many Indians are aspiring more and earning more there is still a big question mark around immediate affordability to make these aspirations a reality – so how do we help increase affordability?
The third trend we saw was that there is a steady increase in lending/borrowing options available for this millennial generation to make purchases, however, many still don't qualify and lest we forget don't want to take a loan for these short-term aspirational goals because at the end of the day – this is still a savings driven culture.
Putting all these factors together we kick-started Wizely with a vision to make aspirations attainable and affordable by simplifying and changing the way India saves.
We're still in our first beta (which began around 3.5 months ago) with an offering that encourages, builds and habituates a savings discipline for our users in an entirely digital, seamless, fun and relevant way with the aim to help our users reach their short-term aspirational goals in a truly affordable way.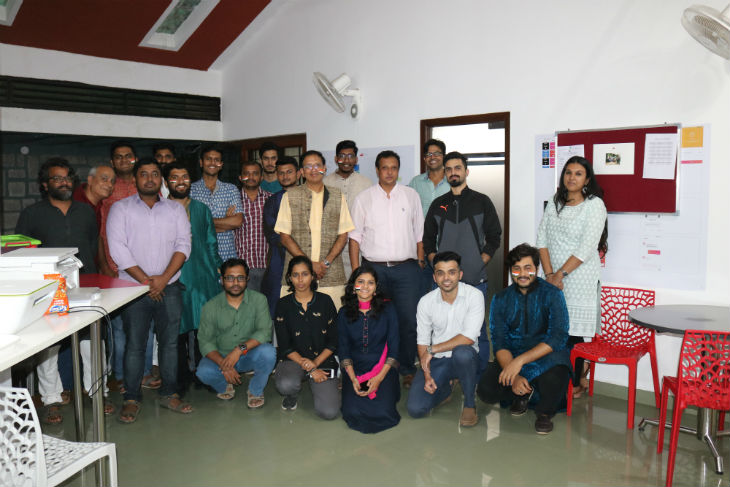 How did you go about addressing the opportunity, what were some strategies you employed to build traction, get the word out, and acquire customers?
Well, so far we've been working with several partners and doing a bit of advertising on Facebook. Frankly, we're in a learning mode now so acquiring users and building traction is solely for the purpose of gaining insights and learnings and plugging that back into the product. We're not aggressively trying to build traction just yet. We want to get a few more things right first.
What have been the toughest challenges you've faced so far, what has been your biggest success?
The biggest challenge that we face is not being able to do as much as we want at any given time. We have an incredibly talented and ambitious team just roaring with ideas and new initiatives and constantly plowing it away to bring our users a great experience. If there was one thing we could have right now I'd say talented & hungry engineers knocking at our door. Time to market is key and we're constantly trying to execute faster and bring all the great things we have planned as soon as possible.
Our biggest success has been the Wizely team and its ability and agility to empower the company and product. The road is tough for everyone in a startup but the team's ability to be excited and driven by that along with the constant drive and "never say no" attitude is a true success for us and certainly something we want to consistently improve upon.
What is the market size you targeting and who is your counterpart or competitor abroad? How do you differentiate from them?
In essence, we are assisting our customers in planning and saving their money to make short-term aspirational purchases. We currently see this as a massive opportunity ~ $85-100 billion opportunities in pure yearly "planned expenditure" on short-term aspirational purchasing.
There are several other players that certainly exist in the Fintech landscape be it on the lending or investment side. It is obvious how differentiated we are from a lending company (we're the antithesis). We differ from an investment company because we aren't building a discourse around long-term wealth creation and abstract long-term goals, such as buying a home, saving for a retirement fund, etc just yet at least; the narrative we are building right now is for customers having goals they want to achieve today.
Do share the details of the investment you raised, if applicable. What were the challenges in dealing with VCs?
We were lucky to raise our seed round led by Javelin Venture Partners, a marquee Silicon Valley investor. We couldn't be happier with the support and perspective they add to the table. The seed round also saw participation from several angels based in the Silicon Valley, Japan, Singapore, and India.
We raised our seed round between August and November of 2017 – it was a total of $1.5 million.
What is that one advice you would like to give to all the entrepreneurs who will be reading this interview on StartupEd?
Your vision and conviction are only as strong as the people you surround yourself with. Early on, build a complementary team that shares your ambition and drive and make sure to always have a  broader perspective to guide them and also be guided accordingly.
---