Meet the India Head of Smart Air Filters, an Enterprise that helps you breathe well with its DIY Smart Filters.
Wednesday, October 31st, 2018 at 10:49 am
---
StartupEd had an exclusive interview with Dhariyash Rathod, India head of Smart Air Filters . Smart Air Filters is a social enterprise that promotes DIY air filters as a low-cost solution to indoor particulate air pollution in China, India, Mongolia, Nepal, Philippines and other countries where air pollution is causing health problems.
Read their inspiring story below.
Tell me a little bit about your venture.
Smart Air is a Delhi based social enterprise that creates low-cost, effective air purifiers as a means of solving air pollution. We also provide open-source test data and hosts workshops to teach people how to protect themselves from air pollution. Cities in India regularly rank as the world's most polluted cities, however, most Indians lack awareness access to the tools to protect themselves. Smart Air's main role is to increase this awareness and provide the tools needed – in the form of purifiers, pollution masks, and pollution monitors – so people can protect themselves.
What is the problem set you are working with?
In India, less than 1% of each country's population lives in areas that meet the WHO's Air Quality guidelines. The need for a solution in India is even more pressing, with 99 out of every 100 of us breathing dirty, polluting air. The WHO estimates there are 9 million deaths in India caused by air pollution. Shockingly, 80% of those deaths are from strokes or heart disease. NGOs and government are working on top-down policy initiatives to address air pollution, but this is a long-term strategy that can't be solved overnight. Our bodies cannot wait, and so need market-based interventions to stop the devastating impact of air pollution now. Air purifiers on the market today are priced beyond what most of us can afford to pay. Quite shockingly, clean air and air purifiers are considered a "luxury product" for many Indians, whereas it is a basic human right. Smart Air purifiers are simple, effective and no-nonsense purifiers that we make as affordable as possible. We have the DIY range (DIY 1.1 for 3,550 INR and Cannon for 7,000 INR) for small rooms and homes, as well as the Ladakh range for larger spaces.
The recently launched Ladakh range (Ladakh Mini and Ladakh) are designed in keeping with Smart Air's minimalist, simple and effective design philosophy. They're extremely powerful purifiers, that pump out 3 times more clean air than the 1.3 Lakh Swiss IQ Air. All this whilst being 6 times cheaper and 16 decibels quieter! We think these purifiers will change the market again – just like our DIYs did – by providing a finished purifier product that will fit right in everyone's home, office, school or university.
What are your plans for growth?
Indian people care about value, and whilst the DIYs offer a huge amount of clean air for a fraction of the price of other big brand purifiers, we are working on a new purifier that packs in the even more clean air, a lower noise level and a much nicer looking design than our current DIYs! It's not just homes that need clean air; we spend more than 8 hours a day at school or in the office, and air pollution drastically affects our productivity. We are working on creating bespoke solutions for B2B clients in the form of our Ladakh series as well as custom HVAC and clean air solutions. A more diversified product line will allow us to increase our revenue streams which will, in turn, fund our educational programs which will then increase both awareness about air pollution and Smart Air.
That's on the product side, but Smart Air is not just about selling purifiers. We want to expand our education programme to more cities in India, where awareness of air pollution is limited. Places like Bangalore, Kolkata, Kanpur, Mumbai, and Raipur. Over the next 6 months, we want to scale up our workshop initiative by hiring and training air pollution leaders in these target cities to spread the word that clean air is within everyone's reach. If you're in these cities, we're hiring.
Tell me about your funding and how much money have you raised till now.
What makes Smart Air different is that we've never received outside investment. Since day one we've been entirely self-sustaining. This gives us the freedom to make our decisions based not on what rich investors want, but on the best way to deliver clean air to Indians. Our business model is based on a positive feedback loop: the more purifiers we ship, the more revenue we have to invest in workshops, which leads to more first-time sales and subsequent replacement filter sales.
What is the biggest mistake you have made in your journey and if you could go back in time, what would you do differently?
Being cash-strapped and conservative, in the past, we've massively underestimated our sales which have left us out of stock! This problem is exasperated because winter pollution levels in northern India sky-rocket, so the demand for simple, no-nonsense air purifiers shoots up during these months. We need to do a better job of analyzing and estimating the market, although that's tough – since pollution is hard to predict!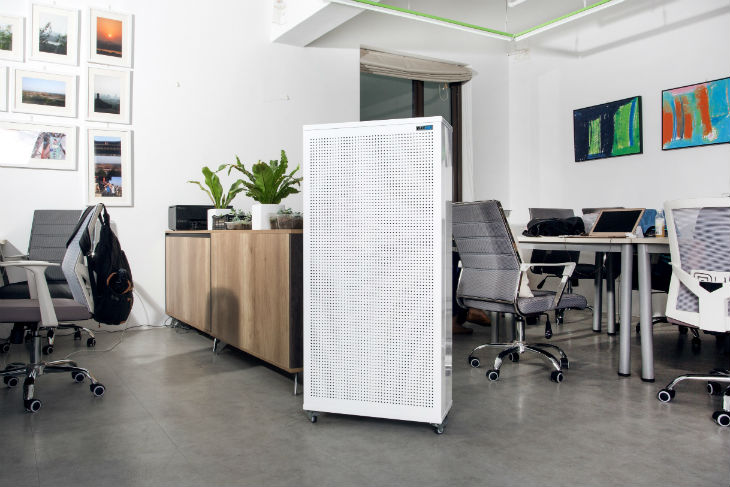 What is that one advice you would like to give to all the entrepreneurs out there?
Self-belief and Perseverance – Being a social entrepreneur is a big challenge where one needs to believe in themselves. Perseverance is another crucial quality which an entrepreneur should possess to make things happen going forward with their journey.
Transparency and honesty – When I first saw the air purifier industry in India, I was shocked. Companies were charging ridiculous prices for simple machines that work on technology invented over 70 years ago. Smart Air is big about being transparent with what we do, and how we operate. And we hope this transparency and honesty will trickle down into the larger industry to benefit everyone in society today.
---